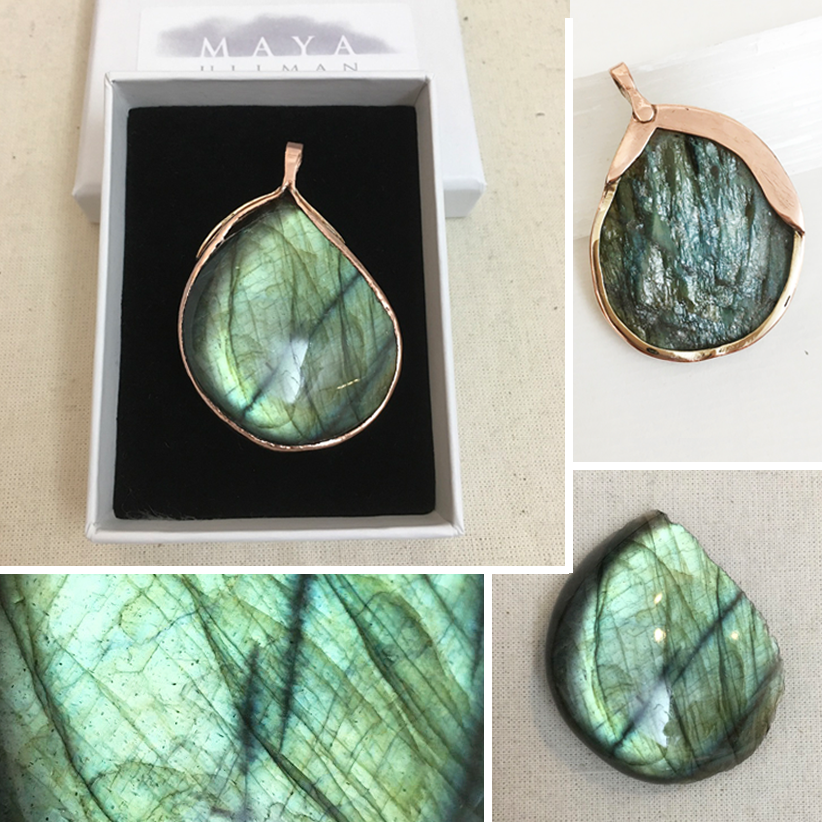 A story of transformation.
This beautiful copper and gold mounted Labradorite pendant is the stunning result of an unfortunate accident.
It belongs to L, who bought the gem in my studio last year.  She was looking for something with healing properties and was charmed by this Labradorite's iridescent optical effect.  
Labradorite is a stone of transformation. The qualities of Labradorite are to help people through change, it is beneficial for the lungs and may assist with respiratory problems. It also strengthens intuition and calms one's mind.
L visited the studio again in December, this time she was very upset. She had accidentally dropped this beautifully polished treasured gem and it had broken into two pieces, revealing rough edges where it had broken. She wanted to know if there was a way of fixing the pieces back together.
Instead of using a glue which may interfere with the natural properties, I suggested we work with the new shapes, make a feature of the rough edge, so embracing the mineral's transformative characteristics. 
One piece was smaller than the other and had broken into a teardrop shape. It was perfect for a pendant. L loved the idea. Together we considered how the piece would look, eventually deciding on the warm tone of copper in a raw organic form. For extra detail we melted down a gold ring belonging to L to decorate the copper. The front of the pendant shows the original polished gem, while the back reveals the unpolished "broken" edge, which we both agreed was aesthetically pleasing with it's raw new look.
L is delighted with this new piece of jewellery. She can still display the larger of the two broken pieces at home but mounting the other half in this new pendant means she can carry the strength of the Labradorite with her wherever she goes. 
The striking colours of the Labradorite, from peacock blues and greens to copper red is always an eye-catching talking point. Now L has another story of transformation to tell. 
It is within our power to harvest positive experience, if we choose to.